In today's fast-changing digital environment, SMS marketing is a critical tool for businesses looking to effectively reach their audiences. SimpleTexting emerges as a prominent player in this domain, offering a suite of features tailored for efficient communication.
This in-depth review of SimpleTexting explores its functionalities, pricing, user feedback, and more, providing a thorough understanding of what it offers and how it stands out in the SMS marketing landscape.
Moreover, is simpletexting worth it or is it just like other crappy junk? All your questions and confusions will be cleared here! So, let's get started.
Sign Up Free, No Credit Card Required, Cancel Anytime!
Pros:
User-Friendly Interface: SimpleTexting's intuitive design makes it accessible for beginners and experts alike.
Diverse Messaging Features: Offers a wide range of features including mass texting, auto-replies, and MMS capabilities.
Robust Contact Management: Efficiently handles contact lists and integrates seamlessly with other platforms.
Strong Customer Support: Known for its responsive and helpful customer service.
Cons:
Pricing Concerns for Small Businesses: The pricing structure may be a deterrent for smaller businesses with limited budgets.
Limited Advanced Features: Larger enterprises may find the feature set lacking in advanced options compared to some competitors.
How SimpleTexting Works
SimpleTexting's platform is designed for ease of use, enabling users to send texts to large groups with minimal effort. It's as simple as importing contacts, drafting a message, and sending it to the selected audience. The platform also supports two-way messaging, allowing for direct communication with customers.
The Core Features of SimpleTexting
Mass Texting: Broadcast messages to a wide audience quickly.
Two-Way Messaging: Engage in conversations with customers.
MMS Capabilities: Send multimedia messages like images and videos.
AI Assist Message Generator: Simplify message creation with AI tools.
Detailed Analytics: Track the performance of your SMS campaigns.
Contact Management: Maintain and segment your contact lists efficiently.
What Sets SimpleTexting Apart
SimpleTexting distinguishes itself with its straightforward approach to SMS marketing. The platform is particularly noted for its high deliverability rates, ensuring that messages reach their intended audience.
Additionally, the inclusion of AI Assist for message creation is a unique feature that enhances user experience.
What Other Users Are Saying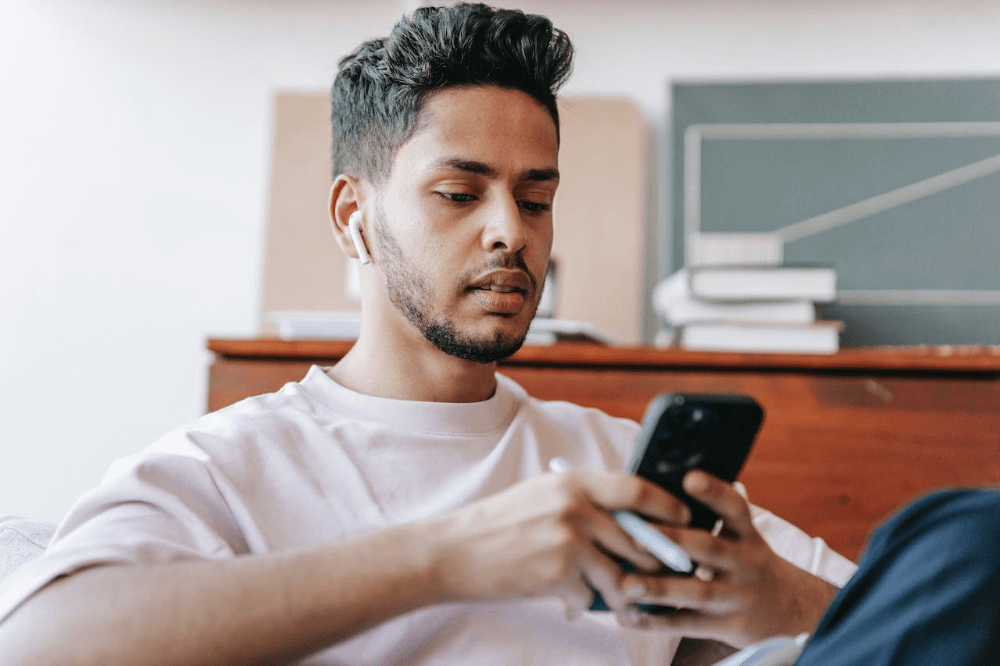 Customers consistently praise SimpleTexting for its ease of use and effective customer support. Many have noted improvements in their communication strategies and an increase in engagement rates since using the platform.
The common sentiment is that SimpleTexting simplifies the process of reaching out to large groups with personalized messages.
Here are some testimonials about simpletexting:
Feedback from SimpleTexting users consistently underscores the platform's effectiveness and ease of use. Here are some detailed testimonials that shed light on real-world experiences:
Rodney M. (10/11/2023): "Effortless communication with clients, reaching over 500 people instantly. Highly efficient and beneficial experience."
Jerome W. (10/10/2023): "Seamless process, impressive results. Notable support from Fred with my queries."
Robert B. (10/10/2023): "User-friendly and reliable Simple Texting. No issues in a year of use."
April (10/05/2023): "Delighted with Simpletexting's responsive service and effective solutions. Excellent application, well-received by our team."
Cody (09/24/2023): "Outstanding experience with SimpleTexting, enhancing our marketing strategy with excellent customer service."
JC (09/21/2023): "Valuable investment, simplifying communication to one efficient tool. Easy to use with great support."
Lisa Y. (09/20/2023): "Simple Text is fantastic, easy to use, with helpful staff and timely support. Key in our business growth."
These testimonials highlight the platform's reliability, user-friendliness, and the effectiveness of its customer service. From seamless communication processes to responsive support, users across various industries have found value in SimpleTexting's services, demonstrating its capability to enhance business communications and marketing strategies​.
SimpleTexting Pricing and Plans
SimpleTexting offers a flexible and transparent pricing model based on the number of credits purchased, where 1 credit is equivalent to sending 1 SMS and 3 credits for 1 MMS.
It also offers a free trial to give it a try. Here's a detailed breakdown of their plans:
500 Credits for $39: Ideal for small-scale campaigns or businesses just starting with SMS marketing.
1,000 Credits for $59: Suitable for growing businesses with moderate communication needs.
2,000 Credits for $89: A good fit for businesses with regular SMS marketing campaigns.
3,000 Credits for $119: Designed for more extensive messaging requirements.
7,500 Credits for $239: Perfect for larger campaigns or frequent communication with a broad audience.
15,000 Credits for $409: Tailored for businesses with high-volume SMS marketing needs.
25,000 Credits for $559: Aimed at enterprises with substantial messaging volumes.
50,000 Credits for $909: Best suited for large-scale operations requiring extensive outreach.
Over 50,000 Credits: SimpleTexting offers the option to build a custom plan for those with needs exceeding 50,000 credits, ensuring that even the largest of businesses can be accommodated.
Each plan also includes a one-time $10 local number activation cost. This structure allows businesses to choose a plan that best fits their budget and messaging volume, ensuring they only pay for what they need.
Whether you're a small startup or a large enterprise, SimpleTexting's pricing plans are designed to scale with your business, providing flexibility and value at every level.
The success of SMS marketing often hinges on the strength of your Call to Action (CTA). A well-crafted CTA can significantly increase engagement and drive your campaign's desired outcomes. It's essential to create a CTA that is clear, concise, and compelling to your audience.
For insights on crafting effective CTAs that resonate with your target audience and encourage prompt action, check out our detailed guide on setting up a strong CTA. This resource offers practical tips to enhance your messaging strategy with powerful CTAs.
Who Can Use SimpleTexting
The platform is well-suited for a range of industries, including retail, healthcare, education, real estate, and non-profits. Its versatility makes it an ideal choice for businesses looking to engage with customers through a direct and personal channel.
Is SimpleTexting User-Friendly?
The platform's design is centered around user experience, with a clear and straightforward interface. This makes campaign management, from creation to analysis, a hassle-free process, even for those with limited technical expertise.
How About Customer Support?
SimpleTexting's commitment to customer support is evident through its comprehensive support resources, including live support seven days a week, personalized onboarding, and reliable deliverability.
This level of support ensures that users can effectively utilize all the features the platform offers.
Top 10 SimpleTexting Alternatives You May Also Like!
When considering an SMS marketing platform, it's important to explore the competitive landscape. Here's an elaborated look at the top 10 competitors of SimpleTexting, each offering unique features and capabilities.
Twilio: A more developer-focused platform, Twilio provides a robust API for SMS, voice, and other communication channels. It's ideal for businesses looking for highly customizable and scalable messaging solutions. Read full review of Twilio here.
EZ Texting: Known for its user-friendly interface, EZ Texting offers similar mass texting services. It's particularly favored for its easy setup and intuitive campaign management tools.
ProTexting: It is the fastest SMS sending platform. Rates are close to 1000 SMS per second on enterprise level. Dashboard is simple and easy to use. No long term commitments, it's month to month.
Textedly: This platform is appreciated for its simplicity and effectiveness in mass texting. Textedly offers features like unlimited subscribers, autoresponders, and scheduled messaging, catering to businesses of all sizes.
ClickSend: ClickSend is recognized for its global reach, providing SMS services along with email, voice, and fax. It's a good option for businesses needing a more comprehensive communication solution.
Attentive: Specializing in mobile messaging for e-commerce, Attentive combines SMS marketing with insights and analytics. It is particularly known for its personalized messaging capabilities.
Twilio Zipwhip (discontinued): While Zipwhip was a notable competitor, it has been discontinued. Its services were similar to Twilio, focusing on business texting solutions.
Braze: Braze stands out with its strong focus on customer engagement, offering advanced segmentation, and personalization capabilities. It's ideal for businesses looking to create tailored messaging experiences.
CleverTap: This platform integrates SMS marketing with app analytics and user engagement. CleverTap is suitable for businesses looking for a comprehensive suite of mobile marketing and analytics tools.
Airship: Known for its digital engagement tools, Airship offers SMS services as part of a broader suite of marketing and customer experience solutions. It is particularly effective for creating omnichannel customer journeys.
360dialog: 360dialog specializes in WhatsApp Business API integration, offering a unique angle on messaging services. It's a great choice for businesses looking to leverage WhatsApp for customer communication.
Each of these competitors offers different strengths, from user-friendly interfaces to advanced analytics and personalization features.
For businesses looking to expand their communication strategies beyond SimpleTexting, exploring other texting websites can be highly beneficial. These platforms offer a variety of features and tools that cater to different aspects of SMS marketing and customer engagement.
Whether you're looking for more advanced personalization options, broader international reach, or specific integrations, these websites provide a wealth of resources to enhance your marketing efforts.
To discover more about these diverse texting solutions and how they can fit into your business model, feel free to explore our detailed guide on texting websites.
Overview of SimpleTexting Dashboard
The SimpleTexting dashboard is a comprehensive and user-friendly interface, designed to give you complete control over your SMS marketing campaigns.
In this section, we'll delve into the key features and functionalities of the dashboard. We'll cover everything from the initial account creation to the advanced aspects of campaign management.
Key points like setting up your first campaign, managing your inbox, creating keywords, integrating with apps, and utilizing analytics will be explained in detail.
Getting started
Creating an account with SimpleTexting is your first step. The process is streamlined: you'll need to provide basic details like your name, email, and company information. Once completed, you're ready to delve into the world of SMS marketing.
Welcome to Dashboard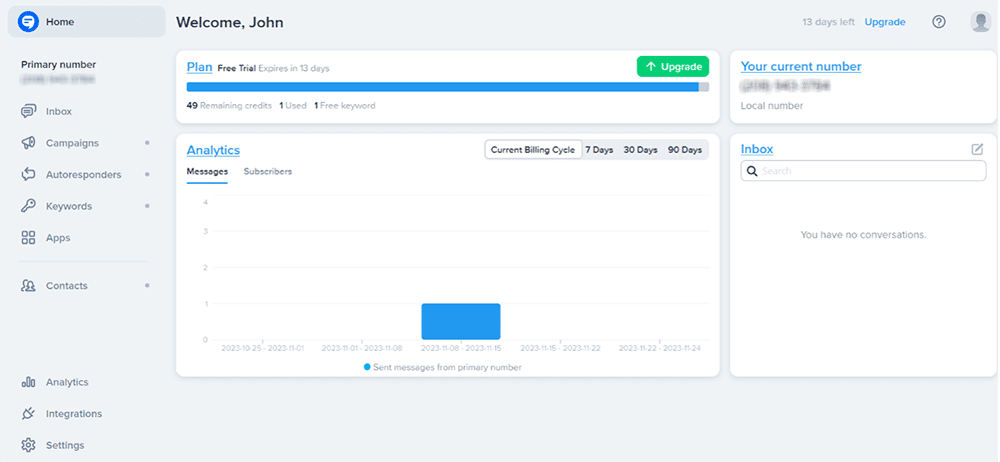 As you log into SimpleTexting, the dashboard presents a comprehensive view of your activities. It's the control center, displaying campaign statistics, recent messages, and quick access to key features. Spend some time navigating through the dashboard to familiarize yourself with its layout and capabilities.
Upgrade to Paid Plans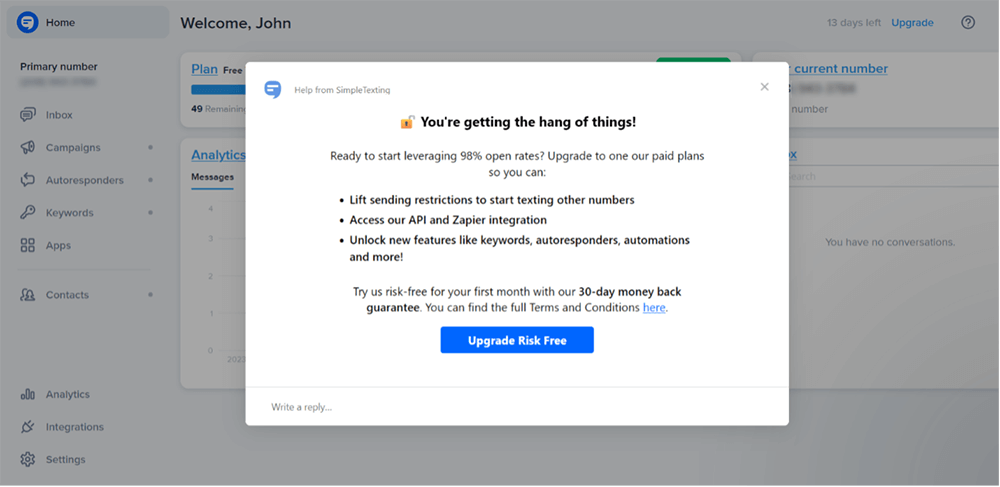 For businesses needing more than the basics, upgrading to a Pro account is an option directly accessible from the dashboard. The Pro version offers expanded message volume, additional features, and higher customization options. Evaluate your business needs to decide if this upgrade aligns with your marketing goals.
Land on Inbox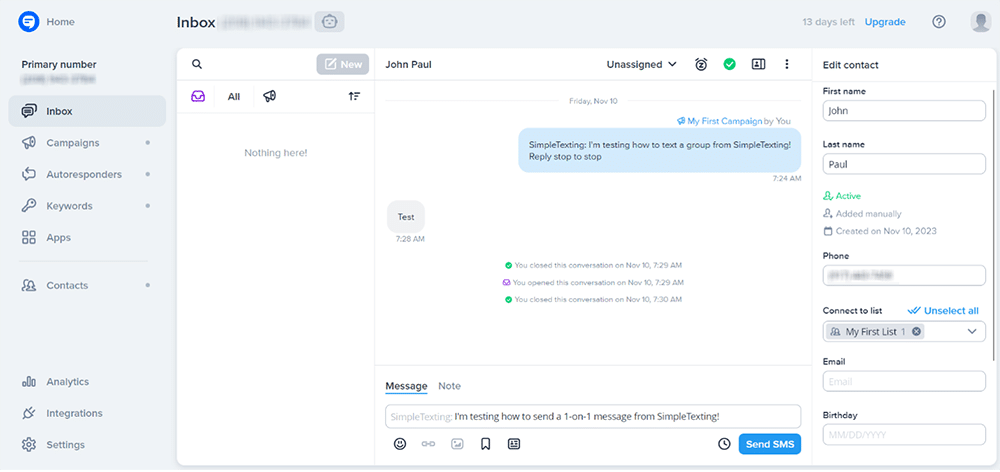 The inbox section of SimpleTexting is designed for managing your SMS interactions. It's akin to an email inbox, offering functionalities to organize, respond, and track conversations. Managing your inbox effectively is crucial for maintaining engagement and overseeing your campaign's dialogue.
Create Your First Campaign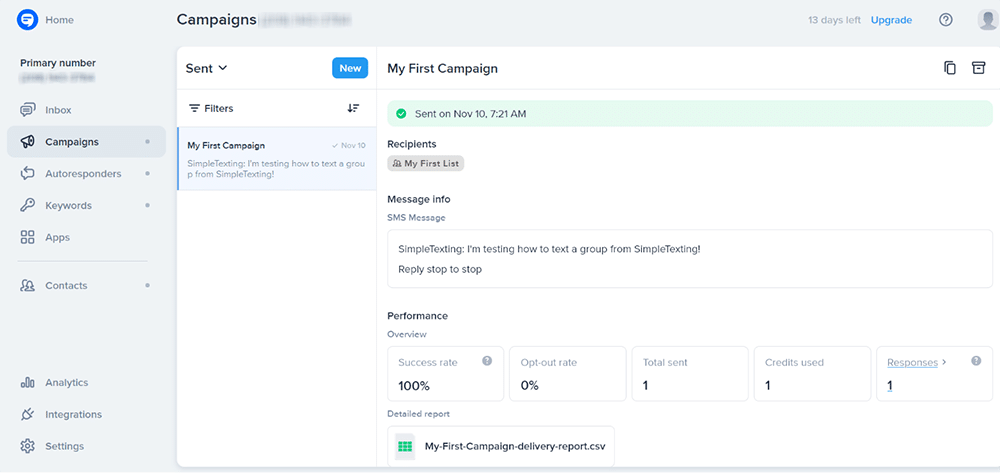 To start your first campaign:
Navigate to the campaign section.
Draft your message. Keep it clear, concise, and engaging.
Select your audience, either a predefined list or individual contacts.
Schedule the send time or send immediately. This process is designed to be intuitive, even for those new to SMS marketing.
Setup Auto Responder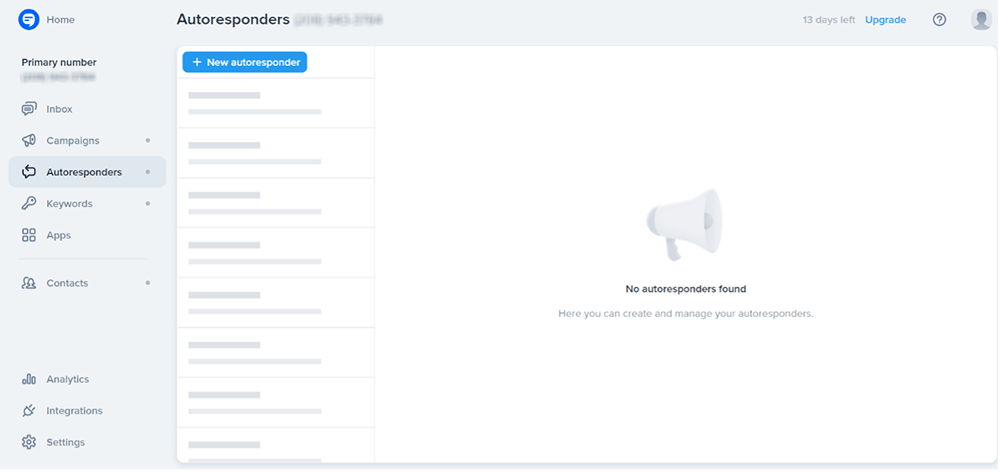 Autoresponders are vital for immediate engagement. They can be set up for new subscribers or specific responses. Crafting effective autoresponder messages involves considering the immediate needs and potential queries of your audience.
Create New Keyword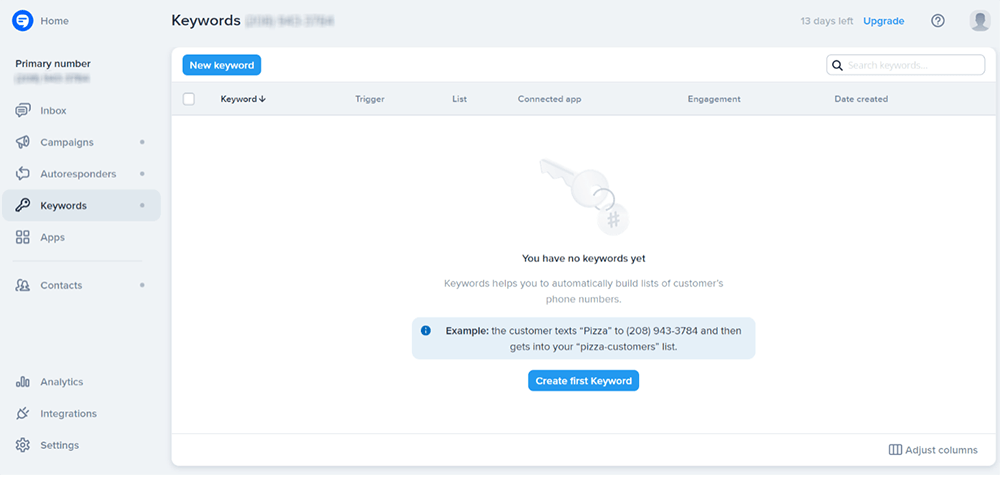 Keywords are essential in SMS marketing for audience engagement and tracking. When creating a new keyword:
Choose something memorable and relevant to your campaign.
Promote this keyword across your marketing channels to maximize its effectiveness.
Use Apps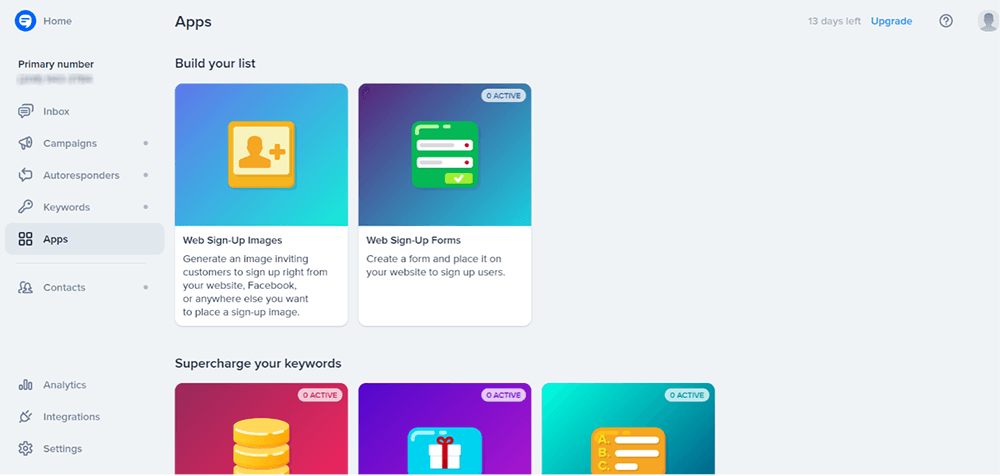 SimpleTexting offers a range of app integrations that can enhance your campaigns:
Explore these apps to find ways they can automate and enrich your SMS strategies.
Consider how each app might integrate with your existing tools and workflows.
Create Lists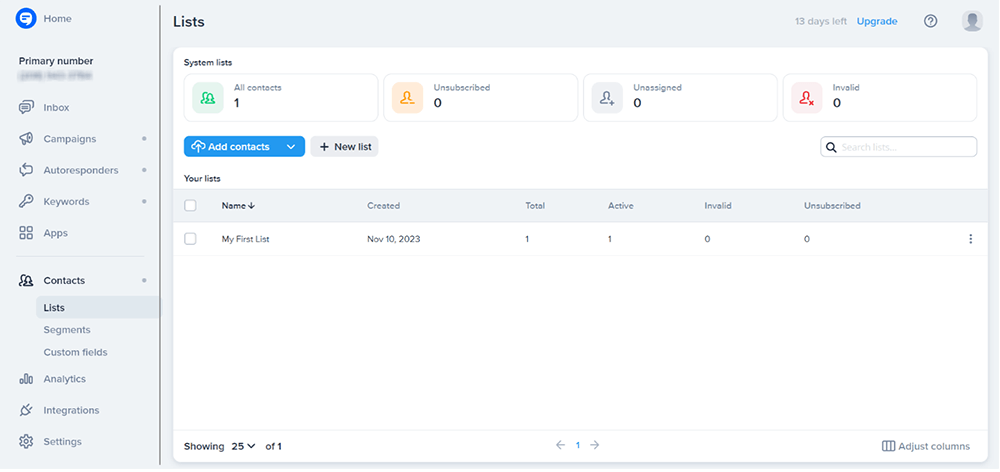 Creating lists involves organizing your contacts for targeted messaging:
Segment your contacts based on demographics, past interactions, or other relevant criteria.
Use these lists to send tailored messages that resonate with specific audience segments.
Add or Create New Segments if Necessary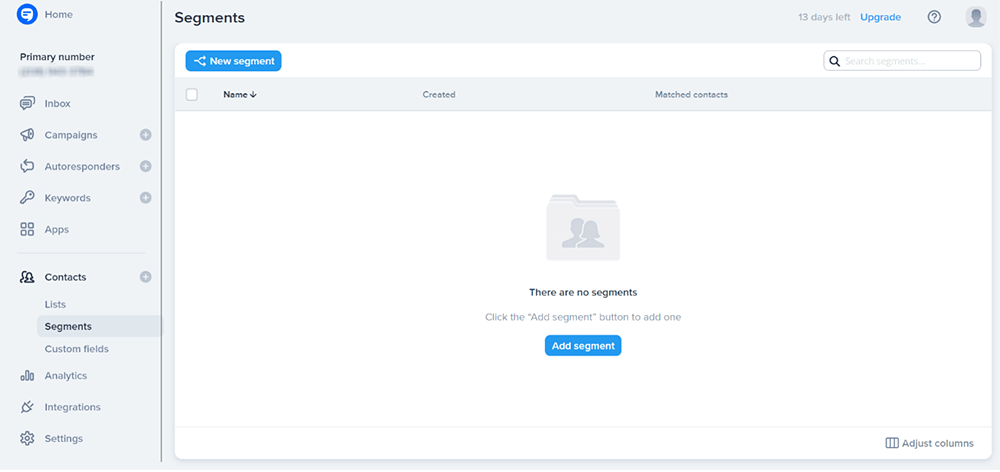 For more nuanced marketing strategies, you might need to create additional segments:
Look at your campaign data to identify trends and groupings within your audience.
Use these insights to form segments that align with specific marketing objectives.
Add Custom Fields if Necessary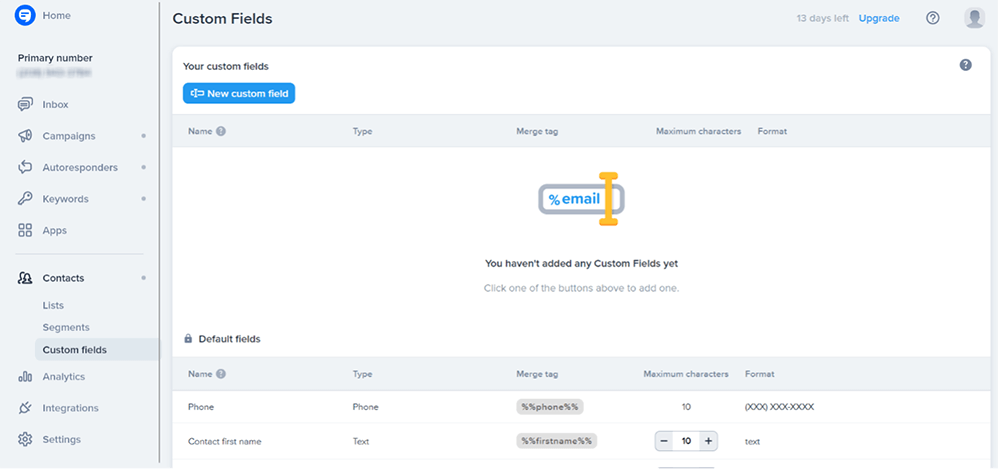 Custom fields allow for a greater degree of personalization in your messages:
Add fields like names, locations, or past purchase information to tailor your messaging.
Ensure that you collect and use this data in compliance with privacy regulations.
Use Analytics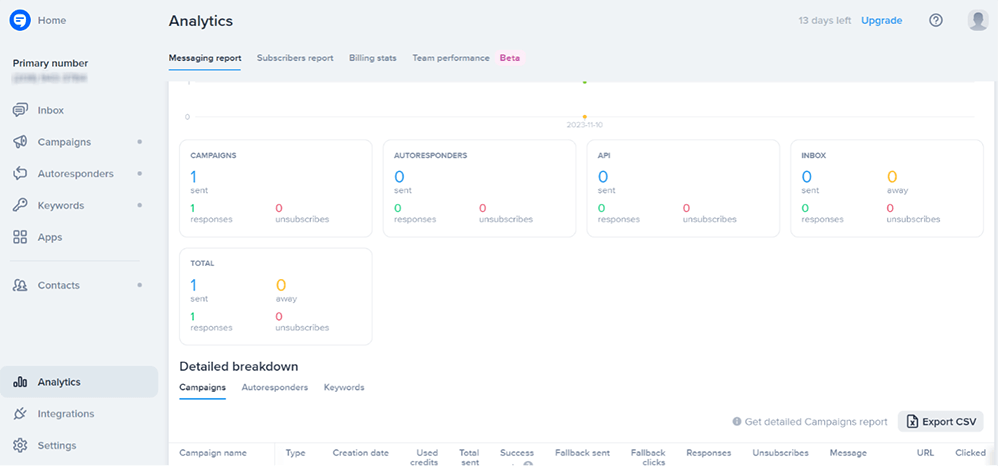 Analytics in SimpleTexting provide insights into the effectiveness of your campaigns:
Regularly review these analytics to understand engagement levels, response rates, and ROI.
Apply these insights to adjust and improve your future campaigns.
Integrate with Other Apps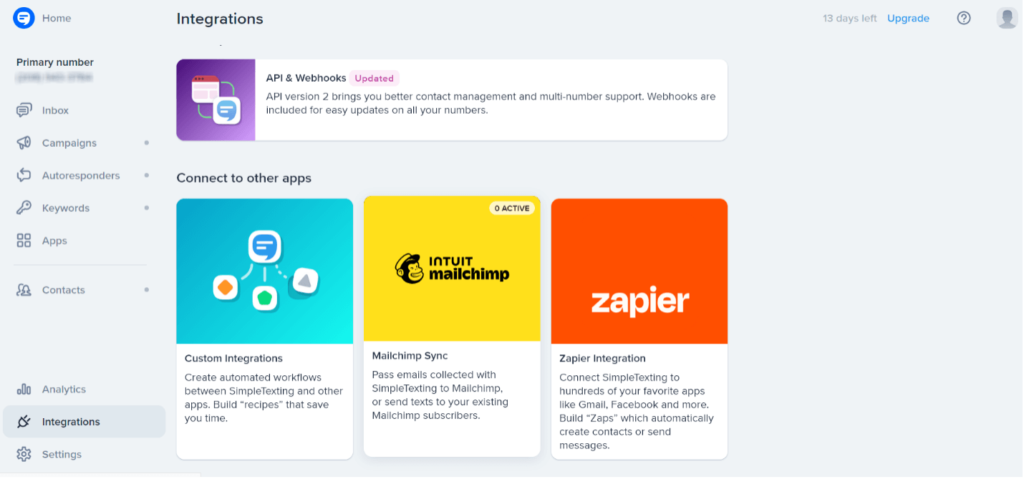 Integrations can significantly expand the capabilities of your SMS campaigns:
Look for apps that complement your marketing strategies, such as CRM tools or e-commerce platforms.
Set up these integrations to streamline your marketing processes and centralize data.
Add Numbers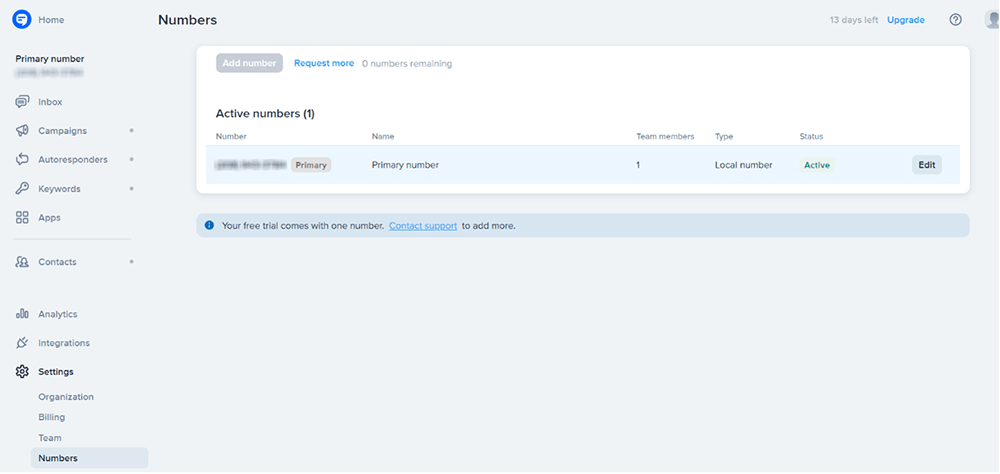 Adding numbers to your account is a key step in campaign setup:
Choose from local numbers, toll-free numbers, or short codes based on your campaign goals.
Consider the reach and type of engagement you want to achieve with your audience.
Each step in this process is designed to maximize the effectiveness of your SMS marketing campaigns. By utilizing the full range of features offered by SimpleTexting, you can create impactful, engaging, and successful SMS marketing strategies tailored to your business's needs.
Our Verdict!
SimpleTexting is a robust, efficient, and user-friendly SMS marketing tool, well-suited for businesses of various sizes and industries.
Its simplicity, combined with a comprehensive set of features and excellent customer support, makes it a strong option for those looking to enhance their SMS marketing strategies.
Closing Words!
Conclusively, SimpleTexting stands out as a valuable tool in the arsenal of modern marketers. Its balance of ease of use, comprehensive features, and strong customer support positions it as a viable choice for businesses aiming to leverage SMS marketing effectively. Read this sms advertising 101 and learn more about this industry.